NEW.YORK
ART.CRIT
John Haber
in New York City
Latest News and Reviews
Strange geometries and cartoon feet—the combination encountered here earlier this week may sound awfully familiar. Philip Guston, for one, relies on both. In fact, he gave up first social realism and then an airy abstraction for them. In the process, he left behind a mess very much like that of contemporary art.
Ethel Lebenkoff, too, navigates between realism and abstraction, and she, too, does it by finding a space between geometry and comedy. An oddly rounded rectangle might morph into a hand dryer or an easy chair. A household table fan faces down a stack of colored rectangles that Donald Judd might have executed in three dimensions. The space behind them remains schematic or bare, except when a smear or arc intrudes. Clement Greenberg might prefer to call it flat, but the black line has the dryness of a charcoal sketch. The New Yorker might see a cartoon, but it skirts politics, lifestyles, or personal confessions.
It certainly skirts Guston's simple themes and titanic ego. Lebenkoff keeps a sense of humor and a feeling for the ordinary. Make that ordinary disasters. That hand dryer, the scourge of public rest rooms, comes paired with umbrellas turned inside-out. Implicitly, the ordinary disaster at issue is painting. The fans, driers, and umbrellas in series refer to wind, like the divine wind that breathes unreliably through autumn beings and art.
Her substantial scale, simplicity, and asymmetric pairings, too, take up the issue of painting—or at least painting when such things mattered. A series I have not seen in person depicts nurses but not, as with Richard Prince, subject to a proud macho lechery. Like the fans, the nurses trip and stumble about rather than offer care. One can see the work as paintings that quote graphics, graphics that quote painting, neither, or both.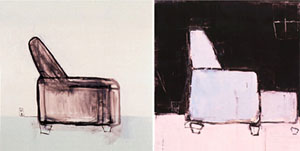 A quoted painting may or may not be a painting, and a quoted cartoon may or may not be a cartoon. Roy Lichtenstein and Jasper Johns came with lessons like that, right?
I am not in the habit of reviewing work in reproduction, and I have seen only four of Lebenkoff's paintings in person. They have had an extended stay through much of 2008 at the Grill Room, a restaurant in the World Financial Center. I cannot say for sure whether New Yorkers will ever see them again. The art market has become sadly unforgiving of artists who do not attain early stardom—or, like Elizabeth Peyton, cater to it. That makes it difficult to nurture a career or, for that matter, to nurture contemporary art. Too many artists over thirty end up in a kind of permanent exile, like Sylvia Mendel—who, as it happened, I also first saw in a restaurant.
I have a standard reply to email requesting that I look at a Web site: I will, but I cannot offer a review or connections. I am not a dealer, and I cannot conceivably be fair to the hundreds of exhibitions out there, much less the thousands of artists and their Web sites. Readers have their priorities, too, like what to do this weekend. Still, it is nice to know that people keep navigating the poles of concept and object, realism and abstraction, purity and humor. Guston himself might have enjoyed wading into the mess he made.